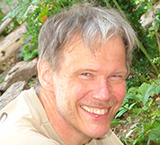 Mr.Erik Van de Velde,Practice Leader Cyber Risks at Marsh & McLennan NL, Rotterdam
Insuring cybercrime, cyberterrorism and cyberwarfare.
Erik van de Velde is a Senior Client Advisor of Marsh Rotterdam. He is a worldknown specialist in "cyber risks". His background is a marine engineer. After his time at sea he has turned to insurance. He wrote one of the very first cyber policies for a Dutch insurer (although it was not called that at the time) in relation to the "ILOVEYOU" virus in early 2000.