WELCOME TO MARINE & CARGO INSURANCE conference MCI 2019
(08 – 09 May, Antwerp)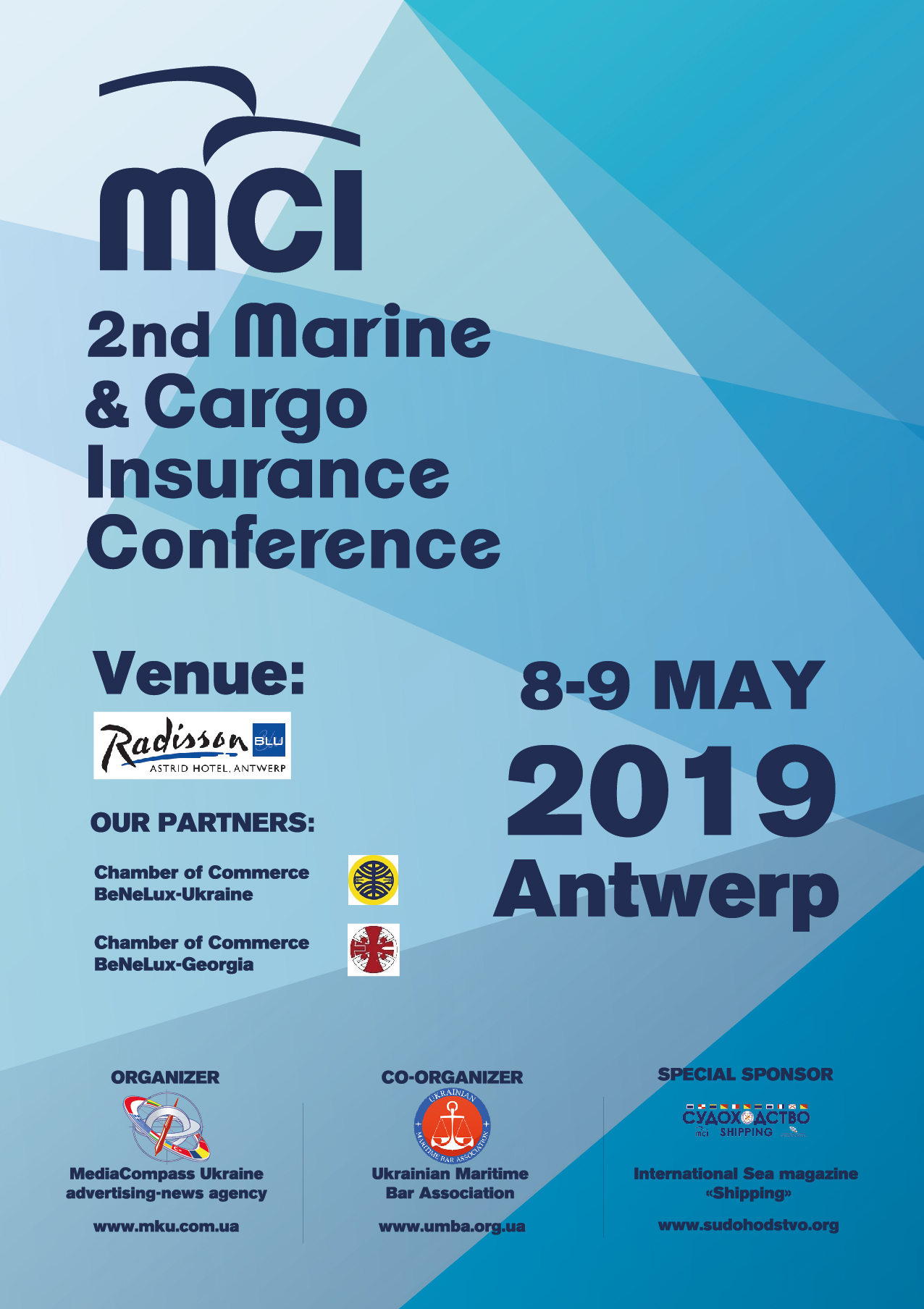 The marine insurance industry, despite its emphasis on risk management and sustainability as well as track record in managing risks, is also facing tremendous winds of change. The insurance policy remains a financial risk safety belt and you cannot do without it.
The International Conference «Marine & Cargo Insurance 2019» (MCI) is organised by MediaCompass Ukraine It takes place on 08-09 May, 2019 in Antwerp (the event for cargo owners, ocean carriers, freight forwarders, ports/terminals, heavy haulers, equipment companies and more that are involved in shipping industry). The event will be held in Radisson Blu Astrid Hotel 
WHY MCI:
39 selected, on being the best in their field, international speakers from Belgium, The Netherlands, Ukraine, Georgia, the UK, Greece, Lithuania, Russia.
20 hours insights, testimonials, practical case studies, debate and networking (more than 10 hours CPD points to be earned).
A vivid by SMS questioning, interactive Conference with live attendance limited to 100 participants and streamline to 1.000 (that have to register).
A vivid by SMS questioning, interactive Conference with live attendance limited to 100 participants and streamline to 1.000 (that have to register).
State-of-the-art Radisson Conference facilities with PowerPoint presentations and room for one to one meetings.
A webinar of filmed Antwerp speakers interviews/quotes used for the livestream, PowerPoint presentations and useful messages.
Last but not least, attendance to tradefair and conferences in nearby Antwerp Expo: "the future of breakbulk" ANTWERPXL
TOPICS for discussion:
Marine and Cargo Insurance Industry in 2019. Trends, threats, opportunities & consequences.
Liability insurance for traders and charterers: market update.
Insuring cybercrime, cyberterrorism and cyberwarfare.
Marine insurance in Ukraine:regulation and practice.
Marine insurance in Belgium: regulation and practice.
Non-standard types of insurance. Delay in start-up. Charterers' risks.
Bulk cargo: totally lost or damaged? One practical case study
Heating and other damage to grains and by-products during transit and storage.
Unclaimed cargo. Who is responsible for the demurrage? Anno 2019: legal challenges in Belgian sector of the freight forwarders: five introductions and a panel discussion
The "Brussels diplomatic Conferences on Maritime Law"(1897):the cradle of the harmonisation of maritime law and practice.
The Comite Maritime International("CMI") holds its seat in Antwerp.
The Belgian Study Circle Marine Insurance.
The CMI and the Belgian Association for Maritime Law. Loss prevention, liability and adjusting with success.
The importance of cargo insurance for breakbulk cargo.
What a burden. A look at Volcalfe v CSAV [2018]
Actio in rem analogy in Lithuania maritime law
Legal Environmental Regulatory Overview. A case study of inherent vice and latent defect.
Subrogation: having paid a claim, what should insurers do to get their money back?
Insuring the exposure of carrying commodities.
Nearshore energy renewables. Working on the beach and the insurance challenges.
The role of smart contracts in cargo insurance.
World's first blockchain platform for marine insurance in commercial use. Risk management: marine & cargo Insurance is a Strategic Priority. Two introductions and a panel discussion.
Transport is a priority business ecosystem in Georgia: seaports, transport infrastructure projects and trade routes.
Innovative captive marine insurance solutions for Georgian marine and cargo operators?
Who Should Attend
Chief Claims Officers of Life and General (Re)insurance Companies
Claims Managers
Underwriters
Agents and Brokers
Loss Adjusters / Assessors
ship owners and ship managers
Consultants
Regulators
Risk & Insurance Managers of Corporate Companies
Lawyers
cargo owners
Service Providers (shipping companies, ocean carriers, freight forwarders, ports/terminals and all the stakeholders
MCI 2019 conference  is a MUST ATTEND event  as it will help you stay relevant with tips on best practices in analysing underwriting data and claim procedures to be efficient in cost control as well. 
For participation apply to organizing committee of the conference
0038 0482 355 999