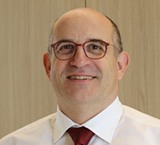 Mr.Christiaan Postelmans, Owner Havrico Incurance,Antwerp
Havrico Insurance are independent insurance brokers created in 1994,  based in Antwerp. Havrico Insurance are specialized in the brokerage of marine, transit and storage insurance conform international trade requirements, including political risks insurance and have a large experience in commodity trading. They have their own Risk Control and Claims Department which are available around the clock.
Christiaan Postelmans is a master mariner and sailed around the world during about 10 years. After this exciting experience he started working during 5 years as terminal manager in a prominent stevedoring company in the Port of Ghent. By the end of 2000 he joined Havrico Insurance.
Christiaan's presentation will deal with political risks insurance (PRI). Political risks are arbitrary, inconsistent and/or discriminatory actions taken by home or host governments / authorities which may have an adverse impact on international trade or investment transactions. As a consequence, buying a political risks insurance to protect your balance sheets may be very interesting to investigate
The Belgian Study Circle Marine Insurance.
Risk management: Political risks are strategic. 
https://www.linkedin.com/company/christiaan-postelmans/about/